BK Designs is a limited liability Florida company founded in 2013. BK Designs provides services in different industries:
Remote Control: BK Designs develops, distributes and retails of products for the RC (Remote Control) industry.
Firearms: BK Designs is an "FFL" (Federal Firearms Licensed Dealer) engaging in firearm sales and transfers.
Maritime: BK Designs provides private yacht sightseeing or fishing charter services to customer in the state of Florida.
BK Designs also owns and operates "BK Hobbies", an online retail store for remote control helicopter hobbyists and overseas different brands that include RC electronics, carbon fiber rotor blades, brushless motors, model helicopters kits and parts.
Please feel free to visit any of our web sites listed below for more information regarding each of our brands and products.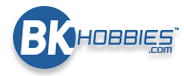 BK Hobbies is BK Designs' retail store. BK Hobbies carries all our proprietary brands and more. BK Hobbies is known for its excellent customer service, fast shipping and knowledgable staff and only stocks products we wholeheartedly believe in allowing us to provide the best possible support available in the industry.

BK Designs became the exclusive distributor for SAB in the United States in 2017. SAB designs and manufactures industry leading model helicopters and parts for the hobby enthusiast. We supply SAB products to dealers and consumers alike.

We are the founders and manufacturers of BK Servo, an industry leading servo for remote control helicopters, airplanes, cars and used in a wide variety of applications.

BK Designs is the exclusive distributor of Theta servos in the USA. Theta is a brand of servos that is relatively new to the market, but they offer incredible performance, reliability and they're the industry first, fully NFC programmable servos.

BK Designs is the designer and OEM manufacturer of Switch blades. Switch blades are carbon fiber rotor blades used in remote control helicopter applications. These blades are used for hobby purposes as well as for industrial applications, such as border surveillance and more.

BK Designs is one of two distributors for Xnova motors in the United States. Xnova produces state-of-the-art brushless motors for single and multi-rotor applications including helicopters and drones.